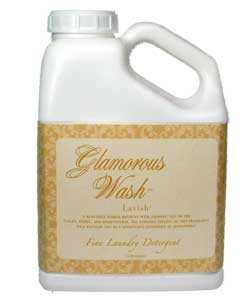 Tyler Candle Co Glamorous Wash Diva
---
If you love Tyler Candle Co. fragrances, the Tyler Glam Wash will let you enjoy your favorite scents throughout the day and night. The Tyler detergent has been formulated to clean effectively yet remain gentle on delicate, specialty fabrics. Use the Glamor Wash to clean your linens, lingerie, fine fabrics, and much more for the long lasting, soothing aroma of Tyler fragrances.

Diva Glamorous Wash Detergent is a warm and complex fragrance overflowing with delicious fruits and rich florals. Rich aromatic chocolate and amber complete this luscious blend!
The wash can be used for both machine washing and hand washing. 
All Tyler Glamorous Wash Laundry Detergent is "HE" for high efficiency washers.
Available in 112 grams (4 oz), 907 grams (32 oz), 1.89L (64 oz or 4 lbs) and 3628 grams (8 lbs). 
Please note that the Glam Wash is heavy, so shipping may seem expensive. Here are the weights with box and packaging: 4oz size: shipping weight 10 oz; 32 oz size: shipping weight 3 pounds; 64 oz size: shipping weight 6 pounds; 8 pounds size: shipping weight 10 pounds. 
Made in the USA! Tyler candles are created in Tyler, Texas!

Ships from Texas within one business day of purchase!
---
Share this Product
---
More from this collection